Did you ever get so far behind that you wept from despair at the thought of trying to catch up? I feel like the fat kid chasing the ice cream man. It's never going to happen.
My Blog is something that I have neglected this year- it really began slowly, over time, and now it's full on outta control. No time, because in my mind it would be too difficult to go back and share all the crafty happenings and things I have been doing in the past year. Sceesch! It went by so quickly!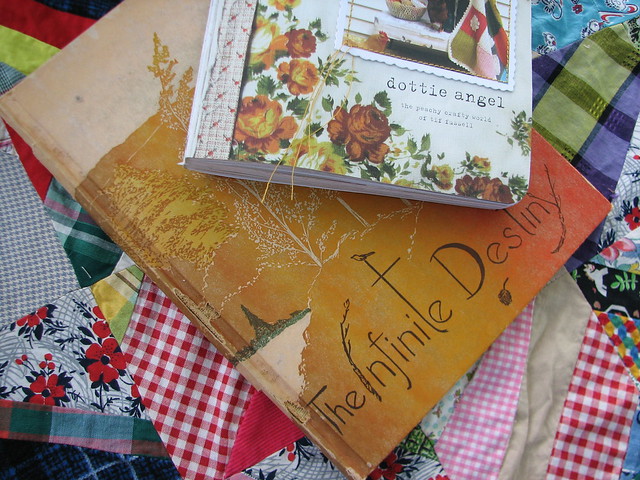 Even as I load the pictures I think maybe I should not load through Flickr- maybe Facebook or just keep them on my desktop. Descisions that once came effortlessly now give me pause. I am an uncertain blogger, with a blog that turned 5 last month. How did this happen?
It was a slight shift. From daily to weekly to maybe once every two weeks to now months. Sad. I am sorry, poor blog and whoever remains out there reading my ramblings.
We had a "big thing" happen this year. It rocked our world. We were in shock for a long time. Never saw it coming. Couldn't talk about it. Mute and morose. Now after some time, things are leveling off.
My husband lost his job.
His career.
His life.
His identity.
It was political.
 So, I am his wife and it broke my heart to watch this good man get torn down. Ripped to shreds. Who wants to share that on their happy little blog?
He is my shadow and I am his sunshine, but when something like this happens there is only gloom, doom, tragedy and depression. It is like any other major life event- death, divorce, moving, illness- you grieve and get angry and go through stages of everything and nothing.
shock.
Questions begin to fill your days- where will we go? What will we do? Will he find another job? Will we sell everything and buy a trailor and travel as far as the gas money will go?
I started this blog because I had no real friends here, after having moved away and then moving back. My husband encouraged me and was supportive and loving. Now I have made friendships and I love my crafty days spent learning new things- felting, dyeing, knitting- all these activities bring me joy.
But my husband doesn't have hobbies. My heart is broken for him. I don't care anymore about much, except trying to make it better. Blogging imaginary tea parties just seems silly and unimportant in the grand scheme of things. I turned fifty this year. I am finally grown up. I have been so selfish. What about him? He gives and gives and this loss has made me love him all the more. I can write this because he never reads my blog. He is a respecter of privacy. He lives with me and my crafty mayhem, why read about what he knows?
So, I want to be back here sharing and writing- it helps to get it out- but it's scary too. How rare to be honest and forthright- I am a woman who was raised not to air her dirty laundry- don't tell the neighbors.
Shame.
But when it isn't your fault and LIFE HAPPENS what do you do? Crawling under the bed doesn't help, although it is a way of dealing with things- not dealing with them...just numb as the days become weeks and months and tears never stop falling..at the oddest of times, too.
Is the picture out of focus or is that just my eyes full of water? Back to my little patchwork picnic in the fairy forest..back to seeking shelter in the hollowed out oaks, green with moss and smelling of molding leaves...this is who I am. love me or leave me.
Do you know Dottie Angel? I wish I was her- no, not really, I am happy to be this calamity girl...but she is pretty cool. We do love much of the same stuff. Grannie vintage, happy bunting, standing on benches...reading her book makes me want to go back to being me again. Go visit her for some giddy, peachy joyfull LOVE.
The holidays are coming and I will be listing stuff for sale on Etsy. I know I have said that before but I do have lots of things piling up and as I go through and downsize I think that trying to sell them online is the way to start.
I want to get back to making the things I love to make- it would be awesome to have a cohesive body of work instead of a mishmash of chaotic arts and crafts. I love learning new things and that is my biggest problem- I can never just do one thing for a lifetime- I constantly need to stretch and grow and morph.
This past few weeks it has been all about felting wool- wet & dry- and I will take pictures and share it soon. wink. really, I will try. I have paperdolls and handbags and oodles of items for stocking stuffers and gifts that would be loving and sweet.
So, with a lighter heart I go off to sort, sift, price and purge.
Thank you for being here. I didn't mean to run you off by not being here but it's been difficult to know what to say. I haven't been right. Nothing really is right yet, but life is just adapting, isn't it? and keeping your chin up.
The day is a bit sunnier and hope is not so impossible a concept as it was a day ago... ah, the calamity!